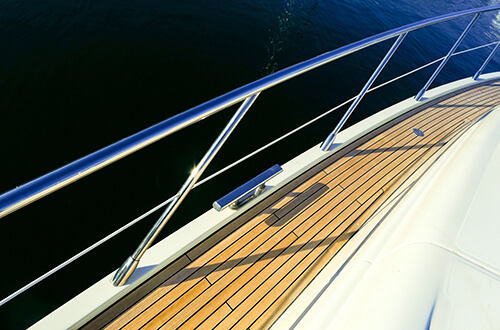 When it's time to get ready for a summer of boating fun, renewing your teak is quick and easy. Just clean the existing TeakGuard and apply an additional coat or two of Teakguard. The new layer will bond with your existing finish, and look as good as new!
Customer Reviews
One of my Favorite Boat Products


I started using this product 7 or 8 years ago, when I bought a gallon of it - that gallon lasted me the 7 or 8 seasons! -
It dries fast enough that I can do the next coat on my seats by the time I work my way around the cockpit with the first coat. - Steve C.
This is an Excellent Product


This is an excellent product and will last three to four months in direct sunlight. Under cover like the stairs on my boat it will last much longer -
I will take it over teak oil anytime. - Amy K.
Excellent. Much Easier Than Oiling Teak


Excellent stuff. Much easier than oiling the teak. Put a couple coats on and walk away.
I use it for outdoor furniture and the furniture continues to be in excellent condition after 10 years. - David H.
Get your boat ready for a great summer!