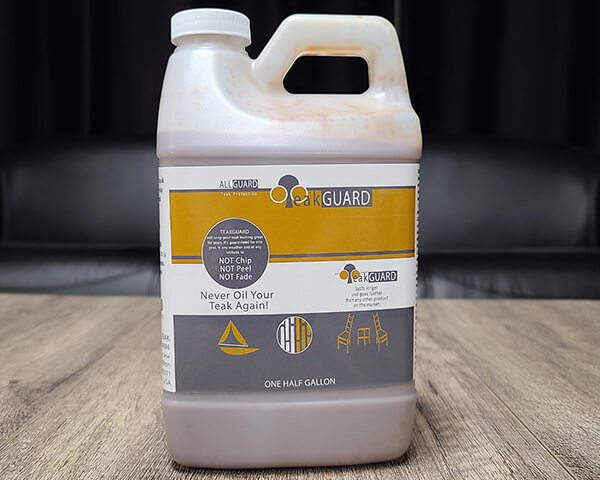 | Size | Common Coverage |
| --- | --- |
| 16oz | Swim Platforms |
| | Patio Furniture (~3 pieces) |
| 64oz | Boats/Decking (~30-40') |
| | Brightwork (~50-60') |
This chart takes into account using multiple coats of TeakGuard Finish.
Easy Maintenance
With TeakGuard you no longer have to sand, strip, oil or varnish your teak. Just reapply TeakGuard as needed to keep your teak looking great.
Long Lasting Natural Look
TeakGuard brings out the natural lusturous look of your teak and can hold up against weathering and winters.
Great For Teak Applications:
Decks
Docks
Patio Furniture
Chase Lounges
Boats / Brightwork
Hatch Covers
Swim Platforms
Indoor Applications
Shutters
Much More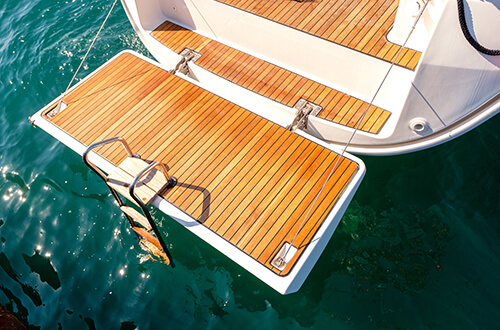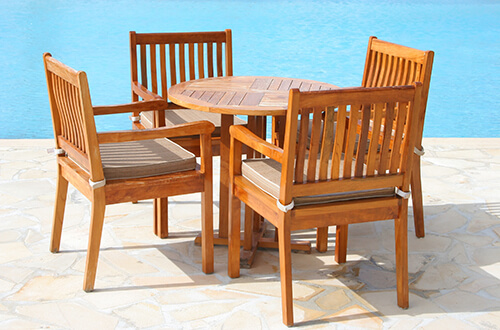 How It Works
Teakguard Finish is the only product of its kind; it allows moisture to escape by "breathing" through the finish, while at the same time sealing in the wood's natural oils. Additionally, Teakguard uses a combination of UV absorbers and reflectors to protect your teak from the ultraviolet rays of the sun, giving it 100% coverage. TeakGuard's polymer resin base will not allow mold or mildew growth and does not stain fiberglass.
Ingredients
TeakGuard contains NO OIL. TeakGuard Finish is a water-based mixture of acrylic polymers and must be protected from freezing. Shake well before and during use.
Safety
TeakGuard products are designed to be safe and easy to use. It is non-toxic and non-flammable.
How To Apply TeakGuard Finish
Prepare and clean your teak. Whether your teak is brand new, freshly sanded, freshly pressure washed or just gray with oxidized teak oil, it needs to be cleaned with TeakGuard Super Cleaner to remove the teak oil without damaging the wood. How you clean your teak depends on many factors like the age, condition and how the teak is used. Please refer to the TeakGuard Manual for additional information on different use cases.
Let the teak dry completely.
Decide on the finishing look you want both in texture and color.
Shake TeakGuard Finish before and often during application.
In a shaded area, using a sponge brush, apply the first coat as soon after the wood has dried as is practical (in a day or two, the sun will draw fresh teak oils to the surface and mold spores will have landed on the freshly cleaned teak). The first coat is the most important, it will be the bonding coat that all other coats rely on.
Let dry to the touch. Drying should be at least 15 minutes.
Apply 1 or 2 more coats, then let dry over night to harden.
Add more coats depending on desired finish.
*These are generic application instructions. It is important to read the different techniques for preparing and applying TeakGuard for different uses and looks so that your first finish is one that future applications can rely on.
Customer Reviews
Brightwork Made Easy


For over 30 years I've used all kinds of products...TeakGuard is the easiest product to keep your teak looking like fresh oiled teak and won't chip, flake or peel and it has UV protection than can last 2 years here in Michigan.
- Richard A.
Love This Stuff


I have used this product for years - unlike other products it is very easy to redo - no stripping or sanding and it looks great and will last in Wisconsin winters outside if need be.
- Amy K.
Excellent. Much Easier Than Oiling Teak


Excellent stuff. Much easier than oiling the teak. Put a couple coats on and walk away. I use it for outdoor furniture and the furniture continues to be in excellent condition after 10 years.
- David H.
© AllGuard Products TeakGuard. All rights reserved.